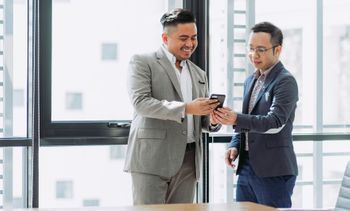 Because of customers like you, we get to do what we love every single day!
     Precision Printing's philosophy is the same as it has been since we opened our doors more than 38 years ago: "To provide exceptional quality accompanied by outstanding customer service". We strive to treat every customer in such a way that they cannot wait to share their personal experience of working with Precision Printing.
Referrals from existing customers are quite often the lifeblood of our business. If you've had a great experience working with Precision Printing, we would deeply appreciate your help in spreading the word.
This is how Precision Printing has grown into the company we are today and we would like to say "Thank you" to all our loyal customers who have been doing this out of the kindness of their hearts.
If you have a friend or colleague that you think could benefit from our services, please fill out the form below and we would be happy to contact them to find out how we can help!  
---

---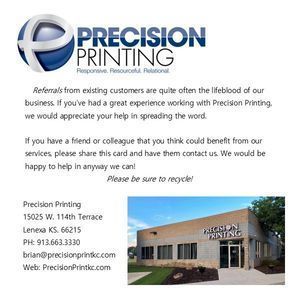 Have a referral? Share it here!